Welcome!
The Higherside Clothing Co. was started by Greg Carlwood and Theresa Duchinsky as an offshoot of The Higherside Chats Podcast, and as the spiritual successor to ConspiraTees. (Our first attempt at tshirt greatness.) Now it tends to stand on its own as one of the highest quality, conspiracy themed, clothing companies around.
Since ConspiraTees, we've graduated from simple, mainly single color designs – to bold, crisp, full color artwork that rivals the best brands in the business. With artwork this robust and detailed, we learned you have to use direct to garment printing. We tested nearly a dozen printers, found a clear favorite, and can say we've never felt better about the quality of our shirts.
But to print amazing shirts, you first need beautiful artwork. Well, Greg was lucky enough to come in contact with some listeners who also happen to be leading tshirt designers in the industry. Combining their expertise and talent with a love and knowledge of The Higherside Chats, we were able to collaborate on designs that contain a synergy and quality that couldn't have been achieved any other way. THC listeners or any conspiracy enthusiast familiar with the themes, will pick up details in many designs that fill out the often complex stories they tell, or symbolism that tries to get deeper than what you get at Orientation.
We also did a lot of experimentation with different blanks to print on. There's no point in going the extra mile with everything else, just to print on a coarse, unappealing, cheap shirt that fits more like a blanket. So we stick with soft, ring spun cotton for our products. (Unless otherwise noted.) We find this to be the best answer for a form fitting, soft, high fashion shirt.
You can use the sizing chart below if you're unsure which is best for you: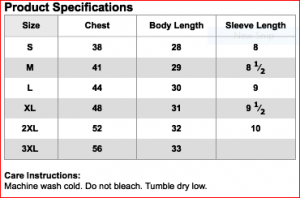 That's our story. Pretty simple, but we get a kick out of pushing the envelope with our designs. You're bound to get a few awkward looks, or maybe even a smirk of approval from a place you'd least expect. We do feel that spreading a lot of these messages into the collective consciousness is a great and powerful thing. The more Higherside shirts that exist in the world, the better the chances that these messages will reach people and provoke thoughts they might not have considered or seen in the typical mainstream culture. That's important.
So when you buy a shirt that alludes to an underrepresented idea, position you hold dear, or a favorite THC episode -know that you're subtly spreading that message to countless people, effortlessly, throughout your day. You're also funding a company that hopes to put more underrepresented messages out there, and picking up a high quality addition to your wardrobe that you can be happy with at the same time. Win, win, win. That's how we like to do things around here. Enjoy.
If you need to contact us for any reason, please direct you messages to TheHighersideChats@gmail.com